Criminal Minds Forum at Yahoo! Groups
Scenes Cut from Film Hi, Bob! Add Sexy Flavor, But Have Nothing To Do With Money-Laundering
The sexy girls and the chimpanzee were in an unfinished film "Mike" Yassine produced, not part of his crimes... Yassine was a well-known club owner and aspiring filmmaker in Austin TX. Hi, Bob!, a documentary-style film, starred many local model/actresses, including
Brooke Banx
, and a chimpanzee named Cody. The film was never released, but the media was able to obtain footage to spice up their reports on Yassine's arrest and prosecution. This was completely unfair to the actresses, who were not asked to give permission for the use of their likenesses, and had nothing to do with Yassine's criminal activities. They are all very nice, law-abiding; professional young women.
Shame on you, media!
Texan Sentenced to Additional Prison Time for Tax Fraud Scheme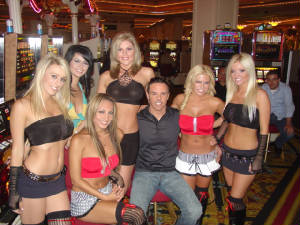 On September 13, 2013, in Austin, Texas,
Hussein Ali "Mike" Yassine
was sentenced to 36 months in prison and ordered to pay over $2.5 million restitution to the IRS for a tax fraud. On February 6, 2013, Yassine pleaded guilty to one count of procuring the preparation of a false income tax return. According to court documents, in October 2010, Yassine provided a professional tax preparer with false information to be included in Yassine's 2009 tax return. Yassine understated by hundreds of thousands of dollars the actual gross receipts generated by his
downtown Austin night clubs
for 2009. In January 2013, Yassine was sentenced to 151 months in prison after a jury convicted him on money laundering charges. The jury found that in 2008 and 2009, Yassine used several business establishments to launder over $200,000 in cash, which was believed to be the proceeds of narcotics trafficking.
See CNBC Report Below:
About Criminal Minds
Yes, Criminal Minds is a TV show. No, this page and related sites have nothing to do with that show, though some contributors may be fans. The show got its name from the same popular phrase which the Criminal Minds Readers & Writers Resource Group, on Yahoo! and now on Facebook, was inspired by. Except the group was founded in February 2000, and the show aired beginning in 2005.
The group ( for which this page is one resource of many) informs, entertains (well, sometimes), and is dedicated to people who love to read and write books about crime, true or imaginary, or are interested in criminal psychology, profiling, or anything pertaining to crime, law enforcement, and the criminal justice system. Join us!

Page Contents:

The Jurist News Feed
Police Limit Comic News
Police News Feed
Free Screensaver: "Bare Bones"
More Criminal Minds Pages
Crime Quotes
More Crime News Resources
"Why Did We Enter Law Enforcement (Teaching)?"
Free Screensaver: "Criminal Minds"
Do You Have a Criminal Mind?

There are News Headlines and Links in the feed below, just scroll your mouse over them to read and click on them. The feed The Jurist provided has gotten messed up and I'm unable to fix it on my end, sorry!

Police Limit Comic

is no longer available as an RSS feed. Catch it on

GoComics.com

or at the even more interesting from a Criminal Mind's perspective, at

Police One

. Author,

Garey McKee

, once taught inmates in the Philadelphia Prison System how to operate a computerized printing press operation to inmates. Thus began his interest in creating a comic strip from the viewpoint of law enforcement. The strip, according to Police One is "unapologetically blunt." The characters are un-named, which may be one reason why policemen are so fond of the comic, they can completely identify with it. For the last 10 years, like their real-life counterparts, the cops of Police Limit have been dealing with pressure they all feel, being caught between the stress of dealing with crime on the streets, and with the unfairness and sometime cluelessness of police brass, judges, and the media. You can see a new Police Limit comic every Sunday.

Indexed in Alphabetical Order

Do You Have a Criminal Mind?

Are true crime and crime fiction novels your favorite bedtime stories? Are your viewing habits contributing to the proliferation of police, forensics, law, and true-crime programming that's on nearly every channel excepting the shopping networks? Have you taped all the Autopsy episodes on cable? Are you a frequent visitor to Rotten.com? Are your friends and family worried about your preoccupation with serial killers?

Is your interest in crime healthy? It depends! Jeffrey Dahmer is remembered to have had great interest in dead animal bones as a child, and his father wonders to this day whether he made a mistake in encouraging. On the other hand, the same hobby might have inspired an anatomist. To examine this topic and more, read the editor's thoughts at The Psychology of Crime page at this site.

More Crime News Resources:

Mini-Lesson in Ethics and Law

"Evil law is no law at all." -- St. Augustine

"Wrong must not win by technicalities." -- Aeschylus

"All bad precedents begin as justifiable measures." -- Julius Caesar

"Federal law is invariably carried to its most ludicrous extreme." -- Diane Alden

"Excessive laws are worse than useless. Many new laws confer legitimacy on what common sense would recognize as crimes." -- Joseph Sobran

"The only way to make sure that government doesn't abuse its power is to not grant it in the first place." -- Tom DeWeese


"Politicians and government bureaucrats are not good at recognizing the unintended consequences of their own actions. Most people, most of the time, will behave in a relatively rational manner, and thus government should leave them alone unless they are a clear and present danger to others." -- Richard W. Rahn


-- Excerpts from an excerpt from "The Good Stuff" newsletter as posted in Rondout

This page contains more than you ever wanted to know about death including The Dead and the Law, Autopsies, Cloning the Dead, Eaters of the Dead, Death by Car, the Celebrity Dead Pool, and Search the Social Security Death Database.
Do you have issues?
2nd Sight Yahoo! Forum
Body & Soul
Science & Spirit
Speak Out at the
Mad Yahoo! Forum
Do you have issues?
2nd Sight Yahoo! Forum
Body & Soul
Science & Spirit
Speak Out at the
Mad Yahoo! Forum